Compare
Bridgestone Turanza EL450

tyre prices

See available prices

Grand Touring All-Season run-flat tires provide temporary self-supporting run-flat mobility for a distance of 50 miles at up to 50 mph, even after a puncture has allowed complete air pressure loss. They are for drivers who want a combination of a sophisticated appearance, competent handling and H-speed rated (or higher) durability, along with all-season traction, including in light snow. Grand Touring All-Season run-flat tires branded with the M+S symbol and are often used as Original Equipment (O.E.) on sophisticated coupes and luxurious performance sedans.

O.E. Grand Touring All-Season run-flat tires are typically purchased as direct replacements for worn-out pairs/sets of the vehicle's original tires. They can also be used for other vehicle applications in complete sets of four or axle pairs if available in an appropriate size, load range and speed rating to match the existing O.E. run-flat tires' performance category and specifications.
Understanding the EU Tyre Label
Fuel Efficiency / Rolling Resistance
Rolling Resistance is the force acting opposite to that of the direction of travel when the tyre is rolling. In essence, it's a measure of how much the tyre wants to stay still!
Wet Grip
Grip in the wet is one of the most important safety characteristics of a tyre. Excellent grip in wet conditions results in shorter braking and fewer accidents.
Concerns about pollution, including noise pollution are increasing. The tyre industry is trying to combat this by giving consumers the ability to compare tyres by the amount of noise they create.
Finding your tyre size
Using the guide below, you can find your tyre size quickly and easily from the sidewall of your current tyres. For more information about your tyre size, see our finding your tyre size FAQ detail page.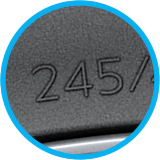 You're looking for a 3-digit number e.g. 225
Followed by a 2-digit number e.g. 50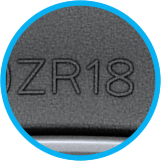 The rim size e.g. 17 inches
A 2/3-digit number and a letter e.g. 94 (load) and V (speed)
About speed ratings
To give you the maximum choice of tyres for your vehicle our search results include tyres with your chosen speed rating or with a higher rating. Your speed rating indicates the maximum speed at which a tyre's performance is guaranteed for its load rating.
Your speed rating is indicated by a letter on your tyre from the following table:
| Speed rating | MPH | Speed Rating | MPH | Speed Rating | MPH |
| --- | --- | --- | --- | --- | --- |
| N | 87 | S | 112 | V | 149 |
| P | 93 | T | 118 | Z/ZR | 150+ |
| Q | 99 | U | 124 | W | 168 |
| R | 106 | H | 130 | Y | 186 |
Tyre Weather Types
Summer tyre
Summer tyres are designed and engineered to work best during the warmer summer months. They are created with a specific tread pattern for optimal performance on both dry and wet roads when the air temperature is above 7°C.
All-Season tyre
All season tyres essentially combine elements of summer tyres and winter tyres to create a tyre that has benefits of both so that they can be used all-year round, giving drivers peace of mind whatever the weather throws at them.
Winter Tyre
Winter tyres are designed to excel in performance once the temperature drops below 7°C. The compound of the tyre typically features a higher concentration of natural rubber than other standard tyres, which stops the tyre from hardening in freezing conditions.
Tyre Symbols
Run Flat
Run Flat tyres are designed specifically for the purpose of remaining functional, for a limited amount of time, with no air pressure in the tyre. What this means is that should you suffer a puncture whilst driving, the tyre will still be usable for around fifty miles.
Extra Load
Car tyres need to be able to withstand different-sized loads. This means there needs to be different types of tyres, as the tyres used for a large vehicle, an SUV or a fully loaded transporter have to take more weight than those of a normal car. XL tyres have been especially developed for use with heavy loads.
4x4 Tyre
4x4 tyres are designed for larger SUV and utility vehicles and come in on-road, off-road styles and all terrain varieties.
Van Tyre
These tyres are design specifically with vans in mind, catering for all van types including small delivery vans right through to larger panel vans.
Homologated Tyres
Some tyres are tested and approved by vehicle manufacturers. These tyres have specific symbols on their sidewall to indicate the vehicle type they are approved for. If you find any of the following symbols on the sidewall of your existing tyres then you should replace them with tyres with the same symbol.